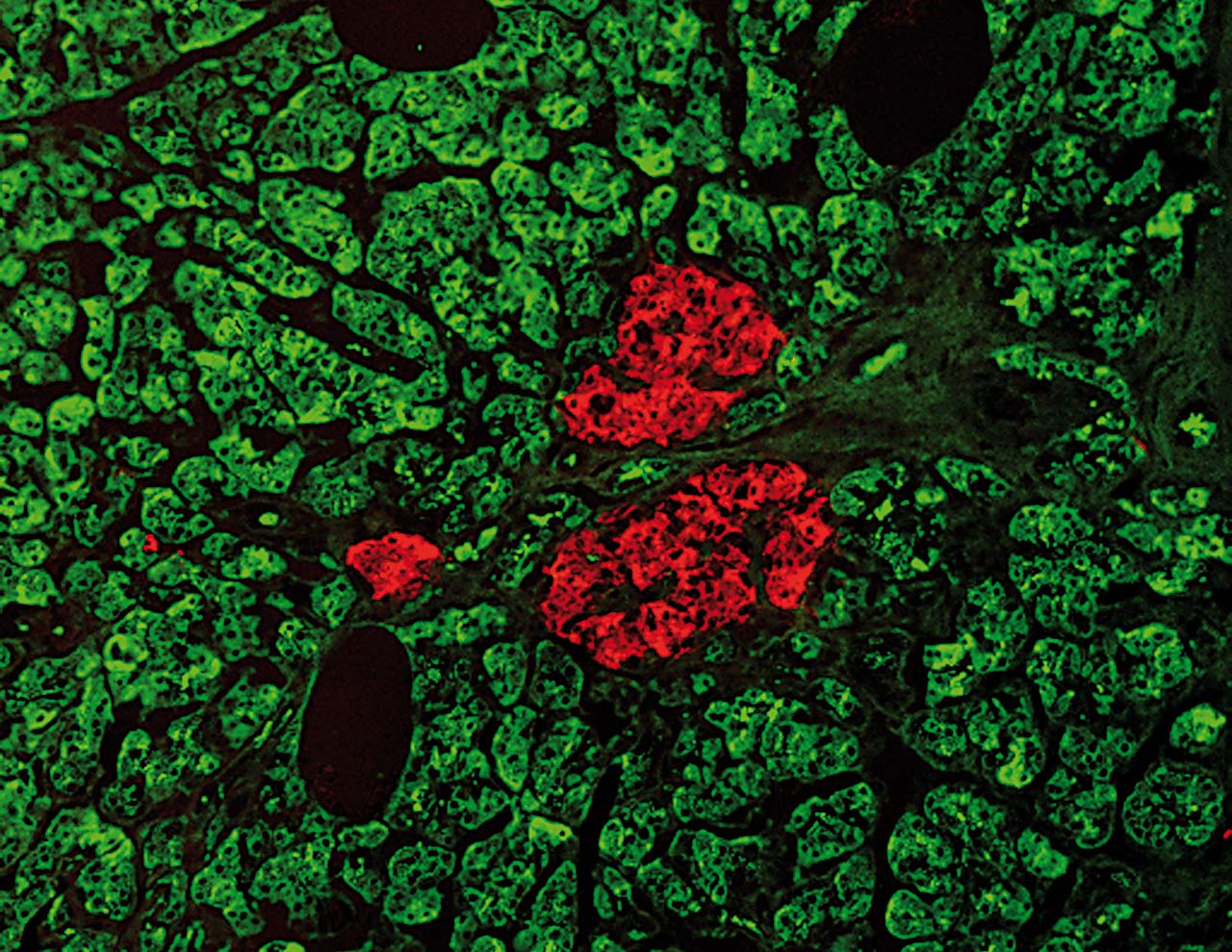 Protection of beta cells from cell death / Establishing a normal insulin secretion by pancreatic islets
Survival of beta cells in pancreatic islets and adequate production and release of insulin by beta cells are important to prevent type-2 diabetes. This diabetes is often characterized by (i) insulin secretion defects in individuals with obesity and insulin resistance and (ii) beta cell demise (i.e., beta cell death and dedifferentiation). These issues are considered to be responsible for the development of type-2 diabetes and its worsening over time (i.e. diabetes progression). At some point, diabetes progression makes it necessary to substitute beta cells by insulin injections in order to maintain close-to-physiologic blood glucose concentrations. The latter are needed to reduce and delay many diabetic long-term complications in individuals with diabetes.
The protection mechanisms of beta cells and mechanisms of normal insulin secretion represent key aspects of this research group. Besides beta cells, endothelial cells are also studied, as these cells form blood vessels and are pathologically changed during most diabetic long-term complications.
Our research group conducts functional studies on N-methyl-D-aspartate receptors (NMDARs), which modulate insulin secretion and beta cell survival. In addition, NMDARs represent drug targets for development of new anti-diabetic medication. Signaling pathways in endothelial cells of pancreatic islets, liver and heart are also studied. The key aim is to better understand the molecular mechanisms that allow beta cells to survive and adequately secrete insulin under conditions of obesity and insulin resistance. Finally, signaling pathways (including integrin-based ones) are studied in the endothelial cells of liver and heart to better understand the development of diabetic long-term complication and to therapeutically prevent these.