CARDDIAB
The CARDDIAB (translational science building for cardiovascular research in diabetes) research building with 3,700 square meters of usable space is being built at the University Hospital of Düsseldorf (UKD) as part of the federal-state program for research buildings. The project combines metabolic, diabetes and cardiovascular research under one roof and is being funded with around 73 million euros by the federal government and the state of North Rhine-Westphalia.
Copyright Image "Nickel & Partner Architekten"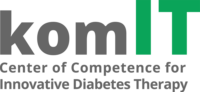 The guiding principle of KomIT is the development of a sustainable infrastructure that integrates expertise from management, design and structural development of small molecules (medical chemistry), preclinical in vitro and in vivo studies, pharmacology, toxicology and physiology as well as clinical trials and provides an open platform for NRW, Germany and Europe.

The newly DFG-funded Research Training Group "vivid" investigates early development of type 2 diabetes. Doctoral researchers in basic sciences and medicine (PhD/MD) will jointly investigate novel experimental models for early diabetes development. A structured and coherent qualification program sets the frame for sustained training and mentoring to gain comprehensive knowledge in translational diabetes research.
DIA-PEP: Preclinical development of novel peptides for diabetes therapy
The cooperational project DIA-PEP is focused on preclinical development of novel peptides for diabetes therapy. The project with partners from Sweden and Germany is supported by Eurostars, a joint funding program of EUREKA and the European commission.
Patient and public involvement at DDZ
The Institute for Health Services Research and Health Economics (ISE) advocates greater involvement of patients and citizens in research and is continuously searching for interested people to work as co-researchers together with scientists in research projects.
One current project is "Patient and public involvement in the GestDiNa project (aftercare for gestational diabetes)"