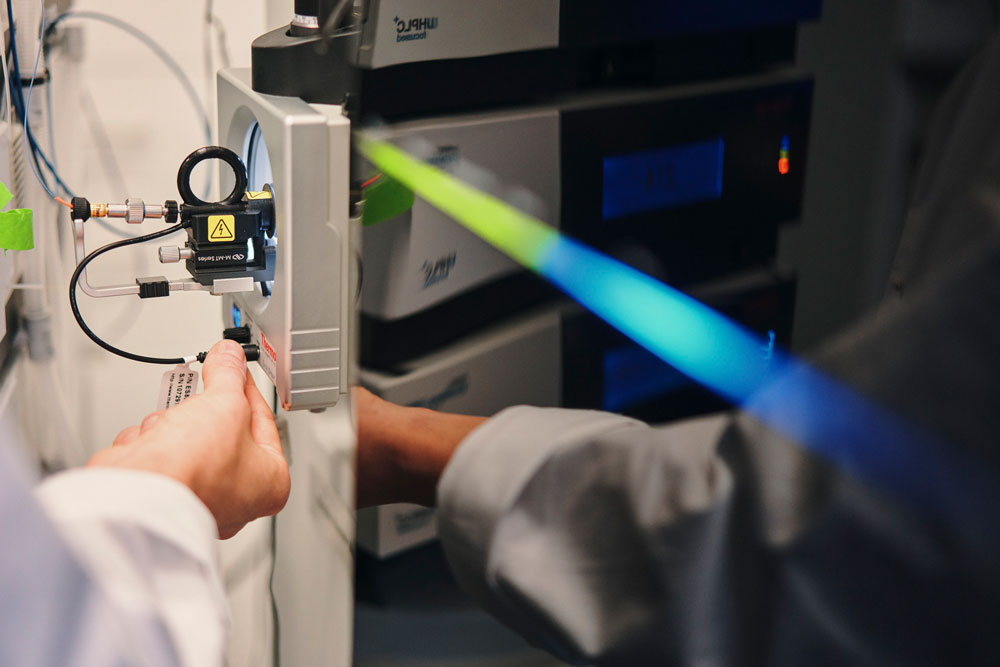 Molecular mechanisms of insulin action / Foundations of insulin resistance
The proteome, which defines all the proteins of a tissue, a cell or a compartment, is highly dynamic and reacts directly to set stimuli. The parallel analysis of such complex protein networks provides new insights into protein regulation and interaction and provides important access to the identification of molecular targets and manipulated variables as well as potential biomarkers. For this purpose, the mass spectrometry-supported functional proteome analysis provides the appropriate platform.
The Proteome Analysis Unit investigates the molecular mechanisms of insulin action and the basics of insulin resistance. It utilizes a high-resolution mass spectrometer (Orbitrap ™ Fusion ™ Lumos ™ Tribrid ™) to quantify secondary protein modifications as well as identify novel predictive biomarkers for type 2 diabetes mellitus and sequelae.
Aims
One focus of our research is the analysis of fatty tissue and skeletal muscle secretagogues, especially identifying marker proteins involved in crosstalk between organs and in the pathogenesis of insulin resistance. The results of our systematic secretome examinations are summarized in the DiabesityProteom database and can be accessed at www.diabesityprot.org.
Protein Rainbow Workshop
Our annual Protein Rainbow Workshop offers the opportunity to learn about modern techniques of protein analysis and apply it to their own sample material.