"Professor Giani ist ein angesehener und erfolgreicher Mathematiker", betonte Prof. Michael Roden, Wissenschaftlicher Direktor und Vorstand des DDZ in seiner Eröffnungsrede. Ihm sei es zu verdanken, dass am Deutschen Diabetes-Zentrum ein Studienzentrum der NAKO Gesundheitsstudie etabliert wurde. Dieses werde erfolgreich geführt und sei in diesem Jahr mit der zweiten Untersuchungswelle gestartet. Zudem sei Giani immer noch sehr in der Lehre an der Heinrich-Heine-Universität Düsseldorf engagiert und bei Prüfungen aktiv. Er doziere im Masterstudiengang "Public Health", einen Forschungsbereich, dem der Wissenschaftsrat mit Blick auf die translationale Forschung eine besondere Bedeutung beimesse.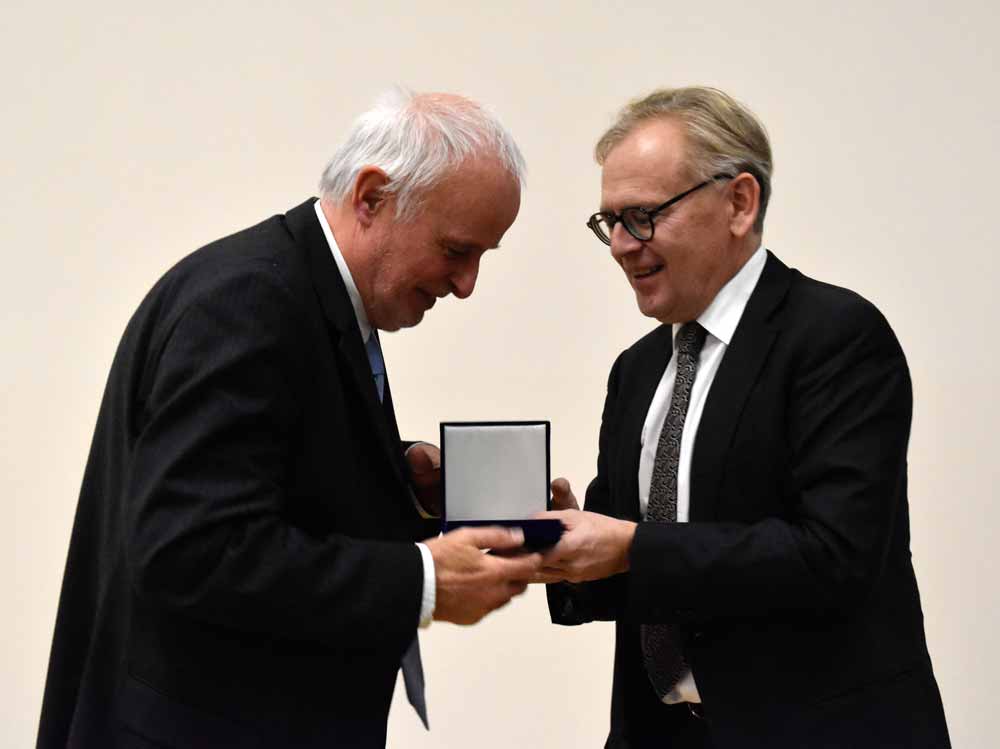 Prof. Edward Gregg, Professor in Epidemiology and Biostatistics, Chair in Diabetes and Cardiovascular Disease Epidemiology von der School of Public Health des Imperial College London, hielt zu Ehren von Prof. Giani einen Vortrag zum Thema "New Divides and Directions in the Global Diabetes Epidemic". Die von Mering Goldmedaille wird seit 2016 vom Vorstand des Deutschen Diabetes-Zentrums verliehen. Ausgezeichnet werden Persönlichkeiten, die sich jahrzehntelang für die Diabetesforschung und das DDZ eingesetzt haben.
Zur Person Josef von Mering
Der Arzt Joseph von Mering (1849–1908) wurde in Köln geboren und wirkte nach seinem Studium in Straßburg zunächst dort und ab 1890 in Halle/Saale. Er gilt als einer der bedeutendsten Diabetes-Forscher. Seine Arbeiten in Zusammenarbeit mit Oskar Minkowski erklärten, wie Bauchspeicheldrüse und Stoffwechsel zusammenhängen und führten zur Entdeckung des lebenswichtigen Hormons Insulin, das später von Banting, Best & McLeod gereinigt wurde.