Prof. Dr. Werner Waldhäusl, Ehrenmitglied der Europäischen Diabetes-Gesellschaft (EASD), ehemaliger Herausgeber der Fachzeitschrift Diabetologia und Vorstand der Universitätsklinik für Innere Medizin Wien erhält in diesem Jahr die Von Mering Goldmedaille des Deutschen Diabetes-Zentrums (DDZ). Der Internist und Endokrinologe begleitete über viele Jahre als erster Vorsitzender des Wissenschaftlichen Beirats das Deutsche Diabetes-Zentrum.
Düsseldorf (DDZ) – "Professor Waldhäusl ist ein langjähriger angesehener und erfolgreicher Arzt und Wissenschaftler", betonte Prof. Michael Roden, Wissenschaftlicher Direktor und Vorstand des DDZ in seiner Eröffnungsrede. Waldhäusl habe der deutschen Diabetologie wichtige Dienste erwiesen und sei lange Jahre in führenden Positionen als Vorstand der EASD und Herausgeber der Fachzeitschrift Diabetologia prägend tätig gewesen, so Roden weiter. Dabei habe er sich wesentlich für eine rationale, physiologisch und pathophysiologisch begründete Therapie aller Diabetesformen eingesetzt.
Prof. Roy Taylor, Direktor des Magnetresonanzzentrums Newcastle upon Tyne, hielt zu Ehren von Prof. Waldhäusl einen hochaktuellen Vortrag zum Thema "Understanding the aetiology of type 2 diabetes using population scale remission". Taylor referierte über seine Ergebnisse aus dem von ihm initiierten radikalen Gewichtsreduktionsprogramm für Patienten mit Typ-2-Diabetes. Mithilfe des durch Hausarztpraxen medizinisch begleiteten Lebensstilinterventions-Programms hatte fast die Hälfte der teilnehmenden übergewichtigen Typ-2-Diabetes Patienten nach einem Jahr ohne Arzneimitteltherapie wieder normale Blutzuckerglukose und oft auch wieder normale Blutdruckwerte.
Die von Mering Goldmedaille wird seit 2016 vom Vorstand des Deutschen Diabetes-Zentrums verliehen. Ausgezeichnet werden Persönlichkeiten, die sich jahrzehntelang für die Diabetesforschung und das DDZ eingesetzt haben.
Zur Person Josef von Mering
Der Arzt Joseph von Mering (1849–1908) wurde in Köln geboren und wirkte nach seinem Studium in Straßburg zunächst dort und ab 1890 in Halle/Saale. Er gilt als einer der bedeutendsten Diabetes-Forscher. Seine Arbeiten in Zusammenarbeit mit Oskar Minkowski erklärten, wie Bauchspeicheldrüse und Stoffwechsel zusammenhängen und führten zur Entdeckung des lebenswichtigen Hormons Insulin, das später von Banting, Best & McLeod gereinigt wurde.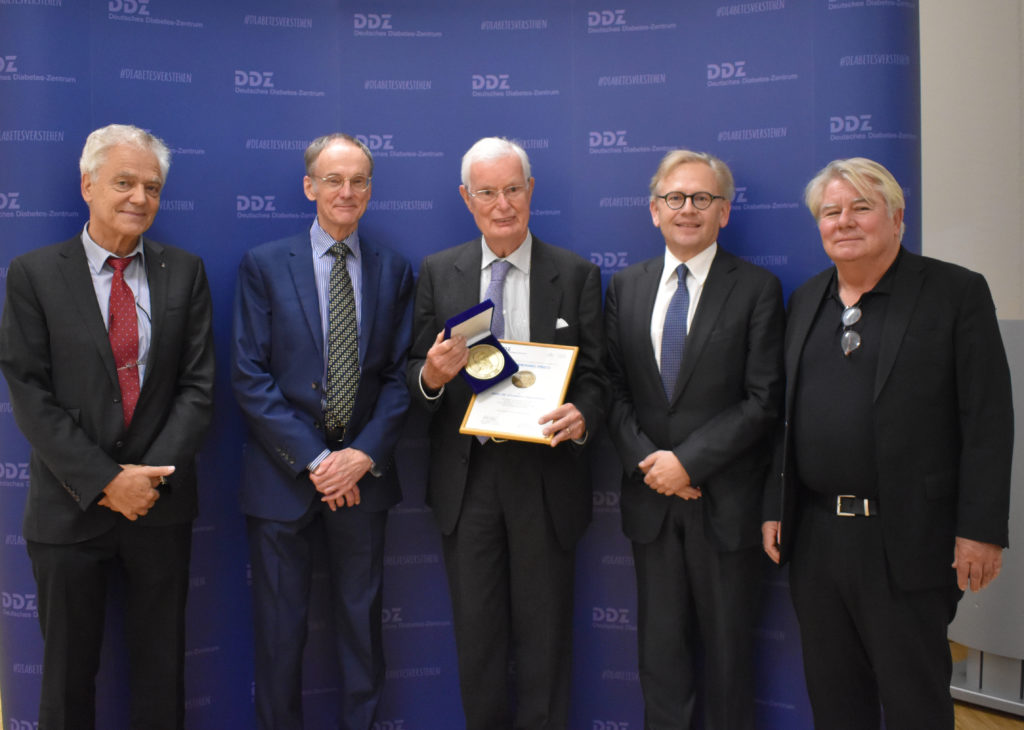 Im Beisein einer Nachfahrin von Josef von Mering wurde Prof. Dr. Werner Waldhäusl als Preisträger von Prof. Dr. Roden, Wissenschaftlicher Direktor und Vorstand des DDZ, mit der Von Mering Goldmedaille 2018 ausgezeichnet. (v.l.n.r.: Prof. Dr. Giatgen A. Spinas, Prof. Roy Taylor, Prof. Dr. Werner Waldhäusl, Prof. Dr. Michael Roden, Prof. Dr. Hans-Ulrich Häring)
---
DDZ-Pressebilder dürfen nur für redaktionelle Zwecke unter der Führung des Bildnachweises: "Quelle: Deutsches Diabetes-Zentrum" verwendet werden. Der Abdruck ist honorarfrei. Wir bitten jedoch um Zusendung eines Belegexemplars bzw. einen Hinweis zum Ort der Veröffentlichung.
Ansprechpartnerin am DDZ für weitere Fragen ist: